An AI-based decision support solution for diagnosis and prognostication of prostate cancer
About CADESS™
CADESS™ will help determine who can live with prostate cancer and who requires surgery to survive.
CADESS.AI was founded in 2016 with the mission to improve patient outcome and reduce healthcare costs for prostate cancer by delivering innovative digital pathology decision support solutions.
We offer CADESS™, an AI-based decision support system for hospital and commercial pathology laboratories involved in diagnosis and prognostication of prostate cancer.
CADESS™ is based on state-of-the-art deep learning and imaging analysis technology and helps determine who can live with prostate cancer and who requires aggressive treatment to survive.
CADESS™ offers improved diagnostic accuracy resulting in reduced patient suffering and lower treatment costs.
Fast and accurate identification of malignant glands in tissue images helps pathologists determine the aggressiveness of the cancer.
CADESS™ was validated at Uppsala University Hospital on the pathology department's clinical workflow.
First version offered as cloud-based pay-per-use service solution.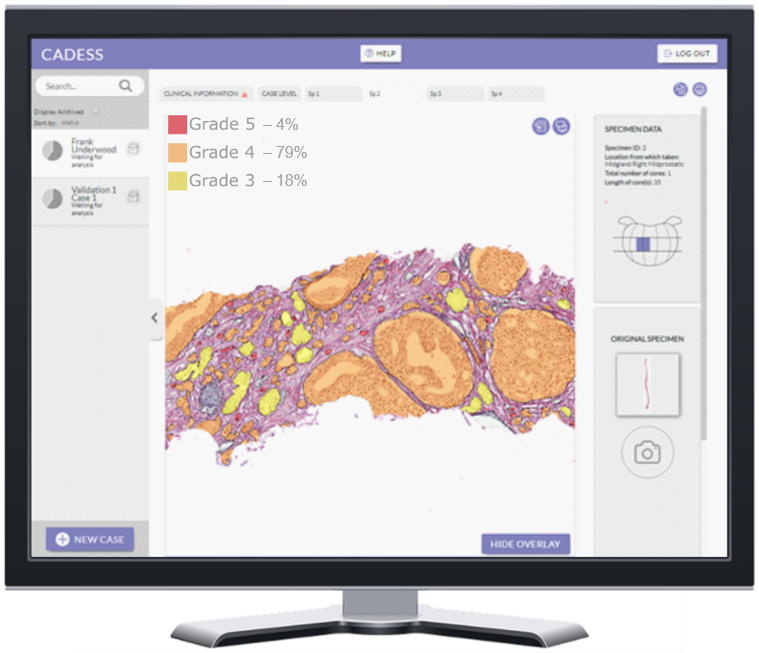 Technology
CADESS™ is a cloud-based decision support system based on mature technology
CADESS™ runs on a cloud GPU-platform infrastructure to enable cost-effective and scalable software as a service. OpenSeaDragon gives an interface similar to that of GoogleMaps, with efficient pan and zoom which pathologists expect from their experience with microscopes. The client devices may use any modern browser.
RESEARCH
CADESS™ is based on ten years of solid research at Uppsala University.
STAIN
Our stain is absorbed by the connective tissue surrounding the glands in the prostate and identifies the boundaries of these glands.
IMAGE ANALYSIS
Advanced image analysis techniques are used to segment the prostate glands from the surrounding tissue.
DATABASE
A tissue database with thousands of segmented glands becomes the ground truth for deep learning.
KNOWLEDGE-BASED FEATURES
Features in the prostate glandular architecture known to be linked to cancer are extracted from the tissue data.
DEEP LEARNING
Deep learning operates on the glandular level incorporating the knowledge-based features.
Meet the CADESS™ team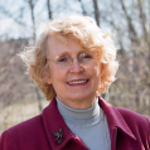 Ingrid Carlbom, PhD
CEO
25 years of research management at US research labs: Schlumberger-Doll Research, Digital Equipment Corporation, and Lucent's Bell Laboratories. PhD in computer science from Brown University. Professor Emeritus, Department of Information Technology, Uppsala University.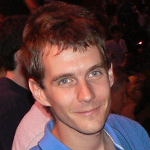 Christophe Avenel, PhD
CTO
Three years of post-doctoral work at Uppsala University. PhD in computer science from Université Rennes. MS in computer science from Ecole Normale Supérieure de Cachan.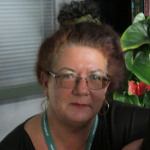 Anna Tolf, MD
Medical advisor
30 years experience in surgical pathology, 16 years as a uropathologist. Senior consultant at Karolinska University Hospital, Stockholm and currently at Uppsala University Hospital, Uppsala.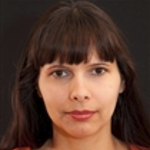 Anca Dragomir, MD, PhD
Medical advisor
Pathologist at the Uppsala University Hospital; special interest in urologic pathology. PhD in cell biology from Uppsala University, Sweden. 20 years research experience in cell biology at Uppsala University.
CONTACT
Head office:
CADESS
Dag Hammarskjölds väg 34A
SE-752 37 Uppsala
Sweden
+46 (0) 73 048 20 25
contact@cadess.ai
North America regional office:
CADESS.AI regional office
21 Oakley Ave
Summit, NJ 07901
USA
+1-908-591-1675
contact@cadess.ai